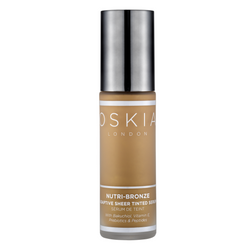 Nutri-Bronze Adaptive Sheer Tinted Serum
30ml

Start earning Beauty Marks today & enjoy exclusive perks. JOIN NOW
FREE GIFT (WORTH £24)

Healthy tan
This is a must have product. It gives your face a natural healthy glow. I have sensitive skin and this serum has not resulted in any adverse reactions. A little goes a long way.
Amazing Product
I was recommended this. I cant use any foundation as it causes my eyes to sting. Except this bad boy!! Amazing. Adjusts to your tone beautifully. So sheer and simply wonderful.
Love this product, no more heavy foundation, just use this serum for a light amazing coverage and an instant glow. Gorgeous.
Love this!
This is quite expensive but so worth it, it gives such a natural coverage and the bottle lasts for ages.
Amazing
Amazing product. Beautiful ingredients and so lovely on skin. Gives a just got back from holiday look.