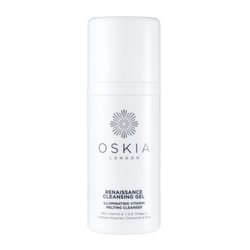 Renaissance Cleansing Gel
100ml

Start earning Beauty Marks today & enjoy exclusive perks. JOIN NOW
FREE GIFT (WORTH £24)

Gorgeous feel and scent
Got a mini sample of this with another order and loved it so bought it. It's got a light consistency and feels slightly oily. Smells amazing. Cleans skin without drying it out. Removes make-up effectively. Also use it with a gua sha in the morning because it has a good consistency for that.
Amazing Cleanser
Amazing cleanser that makes my skin feel so soft. Love that it starts as a gel and then turns into a cleansing milk.
Love This Cleanser
I love this cleanser. It makes my skin feel soft and look radiant!
Best Cleanser
Best cleanser I have ever used! It melts away make up and leaves my skin feeling soft and radiant.
Amazing
This cleanser is amazing. Makes my skin feel so soft and I only need to use a little Bit at a time.